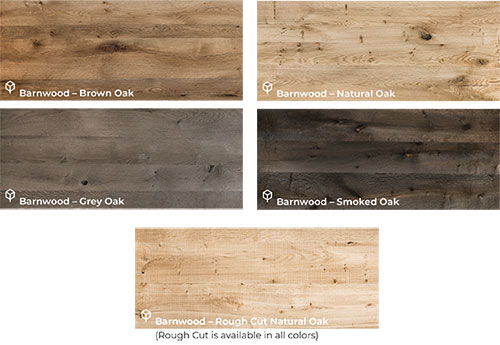 Create impressive interiors with rustic charm using Barnwood, our fleece backed textured veneer sheets with antique look.
The veneer surface appears and feels like brushed, however it is NOT.
Due to a special processing of each sheet, you get a textured veneer with a closed and strong surface with a beautiful antique and rustic look.
Technical Info
Standard sheet sizes:
– 2440 x 1220 mm (Long grained)
– 1220 x 2440 mm (Cross grained)
– Cut to size is also possible on special request
Thickness:
– 1,0 mm (veneer + fleece backing)
– We can also press the Barnwood sheets onto thicker core-panels on specialrequest. Ranging from 4 – 40 mm thicknesses in MDF, plywood, chipboard etc.
Advantages:
– Inexpensive
– Rustic and antique look
– Textured surface (like brushed)
– Easy to apply and work with
Ideal areas of application:
– Interior design in general – Anywhere you want a rustic and antique look
– Door production
– Furniture production
– Panel production
– Shop- and fair construction